The government is amending football ban orders to cover online racism, Boris Johnson said.
In response to questions from the Prime Minister, Mr Johnson condemned the racist abuse directed against some black England players following the team's loss in the Euro 2020 final.
"I condemn and abhor the racist excesses we saw on Sunday evening," he said.
"So we are taking practical steps to ensure that the football ban regime is changed so that if you are guilty of online racist abuse, you will not go to the game.
"No ifs, no buts, no exceptions, no excuses."
Football prohibition orders are issued when someone is convicted of a "relevant crime" in connection with a game, including such offenses as misconduct, threatening people or property, and possession of guns or alcohol.
The list also includes crimes under the Football (Offences) Act 1991, including racist chanting, invading playing fields, and throwing missiles.
The duration of a ban, which serves to prohibit people from participating in games and in some cases to require the surrender of their passport before playing abroad, can be between a minimum of three and a maximum of ten years.
Mr Johnson turned down a call by Labor chief Sir Keir Starmer to condemn Interior Secretary Priti Patel after dismissing the team's knee-kneeling actions as "gesture politics" at the start of the Games.
"The interior minister has faced racism and prejudice throughout her career that he can never imagine. And it has taken practical steps to get a record number of black and minority officials, "said the Prime Minister.
The Labor leader responded by accusing the government of "fomenting a culture war" only to see they were on the wrong side.
"Why will the Prime Minister again and again – even now – refuse to condemn those who boo our players for opposing racism?" Asked Sir Keir.
"What does this English team symbolize that this conservative party is so afraid of?"
Sir Keir added: "The Prime Minister has not given racism a red card, he has given it the green light."
Earlier, Conservative former minister Steve Baker warned the party needed to change its stance on people who get on their knees.
He said the controversy that erupted after the Euro 2020 final at Wembley should serve as a "wake-up call" about how it was seen in the rest of the country.
Marcus Rashford, Jadon Sancho and Bukayo Saka were racially insulted on social media after failing to score on Sunday's penalties against Italy.
This, in turn, sparked a surge of support for the trio, with hundreds of fans gathering to leave messages on a Rashford mural in Manchester after it was defaced by vandals.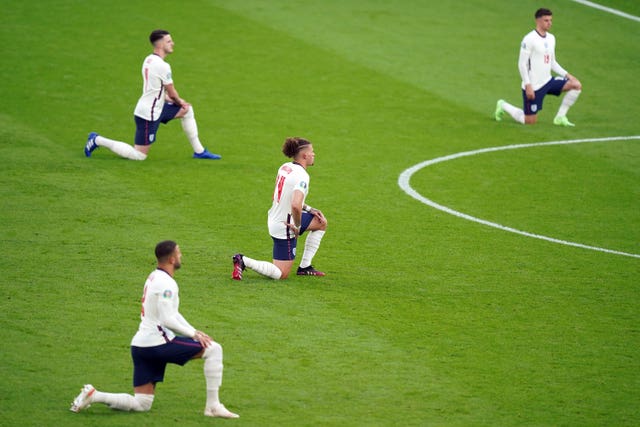 Meanwhile, English player Tyrone Mings accused wife Patel of fueling the fire of racism with her previous comments.
Mr Baker withdrew from criticizing the Home Secretary, but warned that Tories would need to consider how their words would be received when addressing such issues.
"It is a wake-up call to the Conservative Party of how powerful our words are as we tackle these issues," he told BBC Radio 4's Today program.
"We have to face these players who are on their knees and understand that they are not saying, to disappoint the police, that they are not anti-capitalist. They say: "We suffer from racism".
"What I say to my colleagues is that we have to face the reality as we are sometimes heard, even by people on our own side."